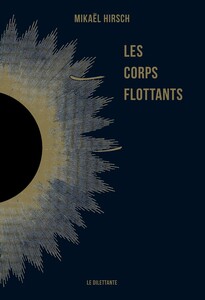 Les « espaces infinis » ! Si leur « silence » effraie, leur science peut se révéler, elle, fructueuse et fort vertigineuse. C'est ce qu'expérimente avec fruit l'astronome Isaac Bahir, l'un des quatre héros des corps flottants de Mikaël Hirsch. Héros n'est d'ailleurs pas le bon mot, on lui préférera « pôle », « molécule » ou « planète », tant il est vrai que l'égrégore formé par le quatuor Isaac-Miranda-Walter-Éric forme une constellation panique, un dispositif affectif mouvant et dynamique, un jeu de chaises musicales planétaires où les éclipses et les manigances chronologiques joue avec le réel et le temps comme avec un Rubik's Cube indéfiniment manipulable. Dans cette uchronie intime, Mikaël Hirsch réussit un rare cocktail de hard-science et de mélodrame sentimental, de fantastique temporel et d'épopée savante, à mi-chemin entre Chris Marker et Borgès : Les Corps flottants ou quand Niels Bohr rencontre Douglas Sirk.
Book details
Publisher

Original text

Yes

Language

Publication date

Page count

Illustrator

Theme
About the author
Mikaël Hirsch
Mikaël Hirsch a passé son enfance entre Belleville et la Suisse. Très tôt, il a baragouiné divers dialectes avant de finir par étudier les langues. Ne s'intéressant qu'à la littérature, il était très mal parti dans la vie. Maintenant que sa jeunesse est derrière lui, l'arrivée semble tout aussi hasardeuse.
Reviews
No reviews have been written for this book.