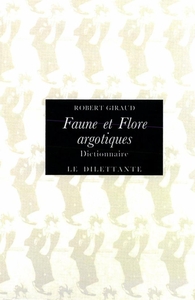 Flâneur méthodique, Robert Giraud peaufine son errance. Il passe Paris à gué, zinc après zinc, dans tous les sens. Par instants, dans le gris flux du propos courant, il entend scintiller l'eau d'un mot exquisément verdoyant. Des échantillons ? Pour la Faune, voici l'arche : l'abeille, l'ablette, l'anchois, l'âne, l'anguille… D'autres encore volent ou rampent, marchent ou sautent et renvoient au secret des dames, à l'ardeur des messieurs, aux manigances de tout le monde. Pour la Flore, c'est un herbier verbal : l'acajou, l'ail, l'amande, l'asperge, etc., de quoi s'entre-jardiner jusqu'au soir, et pour les mêmes raisons.
Book details
Publisher

Original text

Yes

Language

Publication date

Page count

Theme
About the author
Robert Giraud
Robert Giraud est né à Limoges (Haute-Vienne) en 1921. Après s'être distingué dans la Résistance, il collabore, dès 1945, dans Franc-Tireur, Paris-Presse, France-Soir et Qui ? Détective, avant d'aborder la carrière de bouquiniste. Après avoir écrit Le Vin des rues, qui lui valu le prix Rabelais 1955, il devint chroniqueur attitré de L'Auvergnat de Paris, écrivant sur les innombrables bougnats alors tenus par des Auvergnats, des Limousins et des Aveyronnais. Plus parisien que nature, Robert Giraud, que l'on rencontrait surtout dans un bistrot à vins du pied de la butte Montmartre, Le Négociant, avait notamment écrit sur la langue des titis. Robert Giraud est décédé le 22 janvier 1997 à Paris, à l'âge de 76 ans.
Reviews
No reviews have been written for this book.