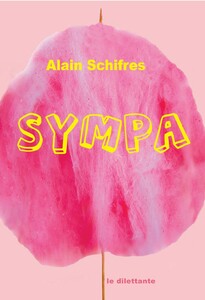 C'est ainsi : plus les temps sont durs, plus les gens sont mous, plus les ombres s'allongent, plus ils s'encocoonent contents, se lovant sous la couette lavable de leur prêt-à-penser nigaud, n'offrant guère au talon d'airain de la violence généralisée qu'une consistance mollassonne qu'agrémente un sourire bonasse de réglisse éventée, des mirettes de cockers neurasthéniques et surtout, le pire du pire, une dévotion pour le « sympatoche », un goût du cool, de l'équitable, de l'écoute Bisounours qui donne la nausée. C'est pourquoi, avalant quatre à quatre les marches de la tribune et s'emparant du micro comme de l'épée de Condé, Alain Schifres (dont on sait l'application virtuose à crier haro sur les poncifs) dénonce, au fil de Sympa, le devenir chamallow de la conscience occidentale et décrète la Saint-Valentin du cliché, la Saint-Barthélemy de la neuneuserie béate et l'éradication du poutou. Tout y passe : le goût du calinou, la coolitude organisée, les marronniers de l'info et la sacro-sainte mamie, le culte du « c'est mieux sans » qui promeut la voiture sans conducteur et la Terre sans hommes, la dictature des « cellules d'écoute psychologique » et l'omniprésence du « Rien ne sera plus comme avant » faisant du petit bois des « quadras » avenants et des « mousquetaires » d'un jour, pilonnant sans trêve les « santons du sympa » regroupés dans la crèche à ravir de la niaiserie commune. Pour une France sans sucrette ni additif de synthèse, votez Schifres ! (et surtout lisez Sympa).
Book details
Publisher

Original text

Yes

Language

Publication date

Page count

Theme
About the author
Alain Schifres
Tiré de son sommeil par des chants scouts, Alain Schifres, auteur des "Parisiens" et des "Hexagons", longtemps journaliste à "L'Express" et à "L'Obs", reprend la plume pour jeter un regard amusé et amusant sur notre époque.
Reviews
No reviews have been written for this book.