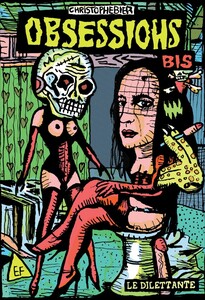 Une sélection des chroniques radio diffusées dans l'émission Mauvais Genre de France-Culture. Il y est question de voyeurisme malsain, de valeurs de force, de lucre, d'inconfort et de lubies fétichistes, de marges poisseuses, d'ambiances nocturnes. Un extraordinaire lâcher de monstres, une phénoménale parade de créateurs singuliers et de créatures inouïes, de cas uniques et de marginaux absolus. Alors, ouvrons à deux battants la porte de l'arène aux obsessions bieriennes.On retrouve tous les hors-pistes et les mis au ban, les monstres et les déviants déjà panthéonisés par ce Malraux de la planète freak . Défense et illustration des marges brutes, gotha des passeurs de Rubicon moraux, doit se lire comme elle a été conçue, avec délectable patience et profonde jouissance.
Book details
Publisher

Original text

Yes

Language

Publication date

Page count

Illustrator

Theme
About the author
Christophe Bier
Christophe Bier est né en 1966 à Dax. Il abandonne très lâchement ses études de lettres classiques pour être comédien. Il débarque à Paris en 1989 et devient l'assistant de Jean-Pierre Mocky qui le promeut « chasseur de gueules » et lui fait jouer aussi bien un vieillard mutant qu'une femme de procureur. Il travaille dix ans sur le Dictionnaire des films français pornographiques & érotiques 16 et 35 mm (Serious Publishing, 2011), arme théorique de mille pages et pesant un kilo et demi , qu'il a conçue pour assommer les censeurs. Il collectionne les romans de flagellation des années 1930, possède plus de quatre mille « fumetti per adulti », l'intégralité des « Brigade mondaine » et des « Gore » et archive des photos de cinéma avec des nains et des hommes habillés en peaux de gorilles. Autant de raisons qui en font, depuis 2001, un chroniqueur régulier de Mauvais Genres, sur France Culture.
Reviews
No reviews have been written for this book.