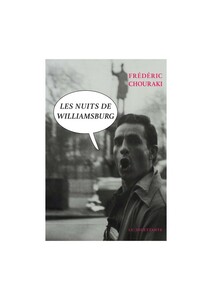 « Chaque homme dans sa nuit s'en va vers sa lumière / La seconde âme en nous se greffe à la première », a édicté un beau jour, se ratissant la barbe d'une main auguste, le père Hugo. Bien beau tout cela, marmonne et maugrée Samuel Goldblum, notre héros, mais quelle nuit choisir pour s'y fondre ? Dans quelle ombre propice refonder sa vie ? Et puis quelle foutue âme est donc la mienne ? Rejeton frondeur d'une famille juive de Clamart, romancier au succès en pleine détumescence houspillé par une éditrice foutraque et capiteuse, Goldblum backroome en roue libre dans les nuits pouacres du gay Marais. Mais le désenchantement menaçant, il opte pour un réenracinement loin de Maman et des moustachus. Le voilà plongé (entendez à la plonge), à Brooklyn, sans un sou, dans les nuits de Williamsburg (son pont, ses hips et ses hassidims), famélique otage d'un impitoyable pizzaiolo. Fuyant ce cauchemar à calzone, à la rue il est sauvé de la voirie par une famille de juifs religieux au centre de laquelle flamboie Rébecca la rousse, un vrai pique-nique de soleil. L'âme enluminée par la lecture du Zohar et les reins bizarrement embrasés par la fille de la maison, il se croit un temps sur la voie du salut. Que nenni, une nuit il se fait la belle, l'autre, et retourne aux fièvres new-yorkaises hantées par les fantômes de la Beat Generation. Pour finir, back to Paris, avec dans la musette Les Nuits de Williamsburg, enfin de quoi se ragaillardir la plume. Porté par une prose turgescente et une gouaille enfiévrée, le roadbook folâtre et initiatique d'un « noctambule affreux vivant à bout portant ». Vital.
Book details
Publisher

Original text

Yes

Language

Publication date

Page count

Theme
About the author
Frédéric Chouraki
Frédéric Chouraki est né à Paris en 1972. Féru de tennis féminin, de mystique juive et de littérature anglo-saxonne, il étudie le journalisme avant de satisfaire son goût du voyage. Il séjourne quelque temps en Angleterre, enseigne le français en zone sensible, pige pour des revues de cinéma et réalise aujourd'hui des reportages sous des latitudes plus exotiques.
Reviews
No reviews have been written for this book.