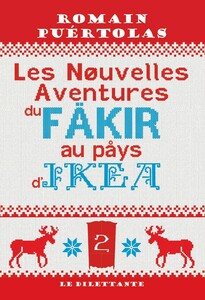 Rappelez-vous l'épisode précédent : L'extraordinaire voyage du fakir qui était resté coincé dans une armoire Ikea ; soit Ajatashatru Lavash Patel, qu'on expectorera selon les goûts et la virtuosité phonique achète-une-truelle ou jette-un-tas-de-choux, as de l'arnaque fakirique en tout sens et madré épateur de gogos. Après un soubresautant tour du monde emboîté dans une armoire Ikea qui l'avait vu, par avion ou par cargo, transbahuté d'Angleterre en Espagne et de Paris à Tripoli, nous avions laissé l'homme coulant les plus doux des jours avec Marie Rivière, la dame de son cœur et écoulant par palettes entières le récit de sa déménageante saga. Les gens heureux étant privés d'histoires et comme d'urgence il nous en faut une, voilà. Alors que notre héros macère dans l'aisance avec la volupté d'un cornichon dans la saumure et se confit dans le plus gras bien-être, son éditeur retoque son second opus, lisse à l'excès et bien bouffi de consensualité. Pour la faire brève, notre fakir est devenu mou du clou, glabre du sabre et son tapis de braises vire à la moquette haute laine. Réagissez, mon bon ! Et notre Patel de repartir à la reconquête de soi. Cap sur la Suède pour rencontrer Dieu lui-même, l'Allah de la clé Allen, le maître d'Ikea, et se fournir en Kisifrøtsipik, la Rolls du tapis à clous. Par chance, dès l'aéroport, les choses vont mal : emporté dans une louche affaire de diamants, confronté au baron Shrinkshrankshrunk, patron de Nespressé et roi de la dosette corsée, au professeur Ronaldo, gemmologue brésilien, sauvé de la mort par une édition polonaise d'Autant en emporte le vent, il se retrouve cloué dans une commode et largué en pleine Baltique, d'où il sera sauvé pour coulisser dans la confraternité d'un cirque belge et apporter une assistance magique à des réfugiés syriens. Tout cela entrecoupé de souvenirs d'enfance marqués par la férule et la duplicité de son maître et initiateur Baba Ohrom. Alors, on avale sa boussole, on ravale sa carte et on mise à l'aveugle. Avec la seconde aventure de son fakir, Romain Puértolas, en digne fils de Verne et parfait gendre d'Alexandre Dumas, réaffirme cette vérité d'évidence : le monde n'est qu'une commode Ikea, assemblée par un fakir, pleine de fausses portes et de doubles fonds, et que l'on assemblera jamais !
Book details
Publisher

Original text

Yes

Language

Publication date

Page count

Theme
About the author
Romain Puértolas
Romain Puértolas est né à Montpellier en 1975. Ballotté entre la France, l'Espagne et l'Angleterre, il devient DJ turntablist, compositeur-interprète, professeur de langues, traducteur-interprète, steward, magicien, avant de tenter sa chance comme découpeur de femmes dans un cirque autrichien. Évincé à cause de ses mains moites, il s'adonne alors à l'écriture compulsive.
Reviews
No reviews have been written for this book.