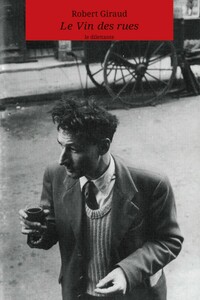 Giraud vous raconte des histoires sur le ton d'une simple conversation, exactement comme si vous étiez avec lui au comptoir devant un bon beaujolais Chez Fraysse ou bien Chez Paulo qui verse l'Algérie dans des demis. (...) En traînant la savate sur les quais, en reniflant l'odeur de céleri des Halles, en perdant ses nuits dans les bistrots de Maubert, Giraud peut vous raconter un Paris que vous ne pouvez pas connaître. Mais ne vous y trompez pas, Giraud n'est pas un montreur de monstres. L'essentiel, le merveilleux de ce livre, c'est que des acteurs écorchés par la nuit jouent sur des motifs vieux comme le beau monde : l'amour, l'argent, l'honneur. Il y a là-dedans un monde fou qui rêve tout haut ; et savez-vous que tout cela est vrai ? Un personnage principal : le vin qui coule dans tous les figurants et surtout, sérum de vérité, qui délie les langues. Robert Doisneau, dédicataire du Vin des rues, évoque ainsi son complice dans la préface à ce livre. Ensemble ces deux-là, baptisés « la paire de Robert » par des esprits facétieux, ont exploré ce Paris inconnu et aujourd'hui disparu. Nul mieux que Doisneau ne pouvait présenter ce fleuron de la littérature parisienne des souvenirs et de l'amitié.
Book details
Publisher

Original text

Yes

Language

Publication date

Page count

Preface author

Theme
About the author
Robert Giraud
Robert Giraud est né à Limoges (Haute-Vienne) en 1921. Après s'être distingué dans la Résistance, il collabore, dès 1945, dans Franc-Tireur, Paris-Presse, France-Soir et Qui ? Détective, avant d'aborder la carrière de bouquiniste. Après avoir écrit Le Vin des rues, qui lui valu le prix Rabelais 1955, il devint chroniqueur attitré de L'Auvergnat de Paris, écrivant sur les innombrables bougnats alors tenus par des Auvergnats, des Limousins et des Aveyronnais. Plus parisien que nature, Robert Giraud, que l'on rencontrait surtout dans un bistrot à vins du pied de la butte Montmartre, Le Négociant, avait notamment écrit sur la langue des titis. Robert Giraud est décédé le 22 janvier 1997 à Paris, à l'âge de 76 ans.
Reviews
No reviews have been written for this book.