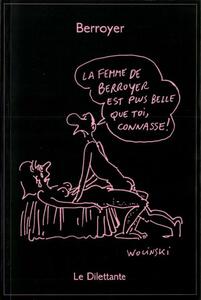 La femme de Berroyer  est plus belle que toi, connasse! : Berroyer vieillit bien comme ses personnages, moins célèbres que lui.  On peut souffrir de ne pas avoir de mobylette ou d'être trompé ou de ne pas entraver tous les philosophes mais là ça risque de mal finir.
Book details
Publisher

Original text

Yes

Language

Publication date

Page count

Theme
About the author
Jackie Berroyer
Jusqu'à l'âge de 25 ans, Jackie Berroyer se consacre d'abord au dessin technique, mais sans vocation particulière. Passionné de musique, et surtout de rock, il étudie un peu la trompette, mais trop dispersé, il arrête. Sa famille espère le voir rentrer dans la fonction publique, avec une préférence pour La Poste mais finalement, il est amené à rédiger des articles sur la musique et devient rock-critic en 1975 pour Charlie Hebdo ancienne formule. Il passe à Hara Kiri, devenant membre à part entière de l'écurie Choron, et travaille également à Libération et Actuel. Romancier, il a écrit J'ai beaucoup souffert, Je vieillis bien et La femme de Berroyer est plus belle que toi, connasse (dont est adapté Tempête dans un verre d'eau, dans lequel Berroyer tient le rôle principal). Auteur de BD, il a scénarisé Goudard et la Parisienne en collaboration avec Gibrat et Raoul Teigneux contre les Druzes, avec Vuillemin. Scénariste de cinéma et script-doctor à l'occasion, il est arrivé de l'autre côté de la caméra un peu par hasard. Des essais sans résultat pour le À nos amours de Pialat, puis des petits rôles au début des années 90, dont celui d'un obsessionnel au ballon dans Les gens normaux n'ont rien d'exeptionnel le font remarquer du grand public, qui le connaît alors plus comme amuseur de Canal+. Inspecteur taciturne dans Les silences de Rak, il tient son premier rôle-vedette dans Encore, de Pascal Bonitzer, drôlissime évocation des affres sentimentales d'un couple d'intellectuels. Je ne vois pas ce qu'on me trouve, était l'occasion pour lui de renouer avec son personnage lunaire et bafouilleur, touchant et lucide, ainsi qu'avec le haut de l'affiche. Dans L'annonce faite à Marius, débarrassé de son débit hésitant légendaire, il aborde enfin un vrai rôle de composition.
Reviews
No reviews have been written for this book.