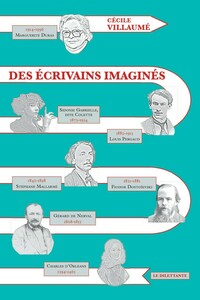 À quoi ressemblait le modèle de la duchesse de Guermantes ? Colette a-t-elle eu de mauvais exemples à la maison ? Peut-on compter sur un festival de poésie pour redynamiser une région ravagée par le chômage ? Est-il encore possible d'enseigner Racine après la vague Mitou ? Madame Rolland était-elle la dernière des lyriques ? Peut-on boire et conduire jusqu'à Lépanges-sur-Vologne ? A toutes ces questions brûlantes et à d'autres encore que vous ne vous étiez jamais posées, Des écrivains imaginés apporte une réponse. Pour des raisons triviales liées à la longueur des procès en diffamation, Des écrivains imaginés se refuse à évoquer des gens qui ne sont pas morts, enterrés et rongés par les vers depuis au moins vingt ans. De même l'auteur n'a choisi que des écrivains à ayants-droit placides. Vous pouvez par contre compter sur ce livre pour traiter avec une rigueur extrême Antoinette Deshoulières (morte en 1694) et Charles d'Orléans (1465).
Book details
Publisher

Original text

Yes

Language

Publication date

Page count

Illustrator

Theme
About the author
Cécile Villaumé
Comme Victor Hugo, Cécile Villaumé est née à Besançon (Doubs). Son intérêt pour les écrivains défunts l'a tout naturellement conduite à écrire ce livre. Elle aime Philippe Muray, Léon Bloy et le roller.
Reviews
No reviews have been written for this book.