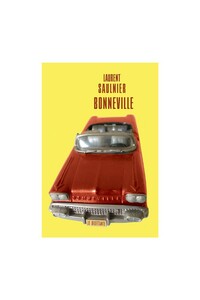 C'est l'histoire d'un mec dans une auto avec des idées noires et un fort pétage de fusibles. Pourtant, au départ, rien que du paisible : une maman poule plutôt revêche qui pèse son poids d'amour étouffant sur ses deux poussins qu'elle gave de poulet, un père bientôt décédé, tout en rêve et qui se lance dans la grande aventure : acheter sans rien dire à personne une belle américaine, une vraie, une grande, une Pontiac Bonneville, trois cents chevaux et huit cylindres en V majuscule qui devient l'icône, le totem et l'emblème de la famille. Une danseuse tout en acier fin et pur nickel qu'il faut néanmoins gaver de pétrole « autant qu'un char Sherman » et bichonner à mort. Trop belle pour nous ! Si belle qu'on finit par l'admirer plus que la piloter, cette maîtresse coûteuse et défaillante. Mais peu à peu, depuis la pompe où il gagne petit, le fils de la maison, un drôle à problèmes, long comme un devis de chauffagiste, se sent pousser des ailes de chrome : à nous deux la route et la vie inimitable. Pourquoi pas moi. Et voilà notre héros lancé on the road, se rêvant le Clyde de cette Bonnie sur coussin d'air. L'aventure, hélas, va donner dans le saumâtre. Pour son premier roman, Laurent Saulnier a verrouillé les portières et bloqué les freins, on respire à peine et le mur se rapproche, ce qui ne l'empêche pas de siffloter sur le fil d'un rasoir romanesque tranchant et fatal. Vous êtes prévenus !
Book details
Publisher

Original text

Yes

Language

Publication date

Page count

Composer

Theme
About the author
Laurent Saulnier
Né à Cherbourg, Laurent Saulnier n'a qu'un seul point commun avec Clint Eastwood : il vit le jour un 31 mai.
Reviews
No reviews have been written for this book.