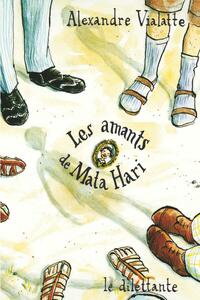 Encore un Vialatte inédit. Tout l'univers de Vialatte appliqué à la plus célèbre des espionnes. Bric-à-brac magique où les objets servent de pierres blanches, figure de femme, vraie ou rêvée, qui organise autour d'elle tout un culte adolescent, sous-bois ou coin de rue, familles, parfums. L'icône se surnomme donc là Mata Hari, belle entrevue dans les ombres d'un château « Plante du Songe » loué le temps d'un été ; belle que l'on suit, scrute, piège à distance. Les galapiats à l'affût se nomment Balèze, Potter, Lévy-pantoufle. Le rêve culminera avec la vision de la jeune femme en nudité, toute dansante auprès d'un feu. Dissipée la brume tiède des vacances, crevée la bulle des rêveries d'enfants, on retrouvera bien plus tard la Mata Hari, fanée, fripée, flapie d'alcool.
Book details
Publisher

Original text

Yes

Language

Publication date

Page count

Theme
About the author
Alexandre Vialatte
Biographie Alexandre Vialatte est né le 22 avril 1901 à Magnac-Laval (Haute-Vienne). Chroniqueur quintessentiel dans La Montagne, introducteur de Kafka dès 1925, traducteur singulier de Nietzsche, billetiste rare dans des mensuels comme Adam et Arts Ménagers dans les années 60. Cet original inclassable, ce blessé en verve, ce maître en pensées télescopées meurt auvergnat à Paris le 3 mai 1971.
Reviews
No reviews have been written for this book.