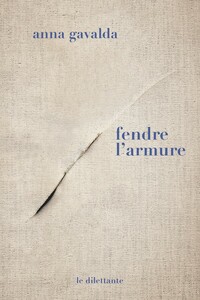 On me demande d'écrire quelques mots pour présenter mon nouveau livre aux libraires et aux critiques et, comme à chaque fois, ce sont ces quelques mots qui sont les plus difficiles à trouver. Je pourrais dire que c'est un recueil de nouvelles, que ce sont des histoires, qu'il y en a sept en tout et qu'elles commencent toutes à la première personne du singulier mais je ne le vois pas ainsi. Pour moi, ce ne sont pas des histoires et encore moins des personnages, ce sont des gens. De vrais gens. Pardon, de vraies gens.
C'est une faute que j'avais laissée dans mon manuscrit, "la vraie vie des vrais gens", avant que Camille Cazaubon, la fée du Dilettante, ne me corrige : l'adjectif placé immédiatement avant ce nom se met au féminin. Quelles gens ? Certaines gens. De bonnes gens.
Cette règle apprise, je suis allée rechercher tous mes "gens" pour vérifier que tous s'accordaient bien et j'ai réalisé que c'était l'un des mots qui comptait le plus grand nombre d'occurrences. Il y a beaucoup de "gens" dans ce nouveau livre qui ne parle que de solitude.
Il y a Ludmila, il y a Paul, il y a Jean (!) et les autres n'ont pas de nom. Ils disent simplement "je". Presque tous parlent dans la nuit, pendant la nuit, et à un moment de leur vie où ils ne différencient plus très bien la nuit du jour justement.
Ils parlent pour essayer d'y voir clair, ils se dévoilent, ils se confient, ils fendent l'armure. Tous n'y parviennent pas mais de les regarder essayer, déjà, cela m'a émue. C'est prétentieux de parler de ses propres personnages en avouant qu'ils vous ont émue mais je vous le répète : pour moi ce ne sont pas des personnages, ce sont des gens, de réelles gens, de nouvelles gens et c'est eux que je vous confie aujourd'hui. (A.G.)
Book details
Publisher

Original text

Yes

Language

Publication date

Page count

Theme
About the author
Anna Gavalda
Anna Gavalda. Née en 1970 à Boulogne-Billancourt. Vit et travaille à Paris.
Reviews
No reviews have been written for this book.